Last update on August 21, 2014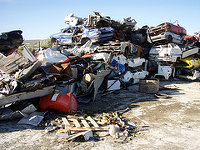 This salvage yard situated near the city of Lawndale (North Carolina), sells scrap metal to its clients. To ask about any used vehicle spare parts, estimated junk car value, sell or acquire second-hand vehicles, please get in touch with them by phone. The Emergency Break Down Service is open Monday to Friday.
What they do:
scrap metal
USA, North Carolina, Cleveland, Lawndale
1157 Warlick Rd, Lawndale, NC (Zipcode: 28090)
Operating Hours
Emergency Break Down Service Comments
Place here your comments here!
Need used parts? Submit your parts request for a quote
Improve your sales with us!
More than 1,000,000 monthly visitors
We couldn't be the leading salvage yard directory on internet for the U.S. if we didn't offer you some extra elements in order to assist you in your search for second-hand spare parts.
Check this listing (which is sorted from nearest to furthest) for additional salvage yards close to the area of Lawndale (North Carolina).