Last update on December 29, 2015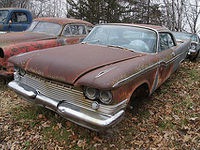 Close to the area of Cookshire (Quebec) is placed this junk yard, which is perfect for owners looking to buy the finest second hand spare parts for their vehicles, but without having to spend too much dollars. Here you will be able to find car parts without giving up the expected guarantees in the sector and efficient customer service. If you need to get in touch with them, you can do so: phone, tollfree and email. Detailed info: The Dumas et fils pieces autos usages inc. timetable info isn't offered yet.
What they sell:
car parts
Canada, Quebec, Cookshire
730, Chemin Carrier, Cookshire, QC (Zipcode: J0B 1M0)
Operating Hours
Dumas et fils pieces autos usages inc. Comments
Leave your opinion below!
Need used parts? Submit your parts request for a quote
Improve your sales with us!
More than 1,000,000 monthly visitors
There exist a colossal variety of makes and models on the market, so there's a possibility that you won't find the second hand parts you are looking for in this junkyard, regardless of its deep inventory. Don't worry, we have thought of everything and found other businesses for you in the area.
This list (which is organized from closest to farthest) contains additional junkyards close to the vicinity of Cookshire (Quebec):
1

1. Certi recyclage Inc.

7860, Chemin de St-Élie, Sherbrooke

13.1 miles

Do you have an used car or are you immersed in the search of cheap spares for your auto? This directory advise you to approach this salvage yard, since it provides a gargantuan supply.

2

2. Sherbrooke pièces autos usagées inc.

6031, rue Beaudette, Sherbrooke

13.1 miles

The junk yard listed here is wich operates in Sherbrooke (Quebec) and it's offering top value auto pieces to its possible buyers in the proximity. In case you need to demand an estimation for your old auto or request for a particular junk piece, please contact them using email, tollfree and phone.

3

3. Fleurimont pièces d'autos inc.

2095, Chemin Alfred-Champigny, Sherbrooke

13.1 miles

You can save hundreds of dollars on the conservation of your dear vehicle by purchasing junk spare-parts with warranty in this popular in Sherbrooke area salvage yard.

4

4. Pièces d'autos usagées Léon Jacques et fils inc.

146, Rang 9, Coaticook

21.2 miles

The business listed here is located close to Coaticook (Quebec) and it's offering the highest performance auto pieces to its eventual buyers near the proximity. If you are aimed to request an estimation for your used auto or plead for a specific used piece, please contact them via email and phone.

5

5. Fontaine Pieces 1994 inc.

1150, rue Notre-Dame Est, Victoriaville

46.8 miles

Interested users have the opportunity to contact the friendly owners of this junkyard using these means: email, tollfree or phone. If you are aimed to acquire the best quality auto parts in the city of Victoriaville (Quebec), they are an incredible choice.

6

6. Roxton pièces d'autos

Road 139, Roxton Pond

49 miles

It's easy to economize large amounts of money on the conservation of your beloved car by acquiring used spares without giving up the necessary warranties in this popular in Roxton Pond area junkyard.

7

7. Jacques Lauréat pièces d autos inc.

900, boul. Fontenac Ouest, Thetford Mines

49.4 miles

This wrecking yard settled close to the town of Thetford Mines (Quebec), provides an highly competent service to its clients, offering great offers but with the highest excellency and an immense diversity of catalog.

8

8. Central Farm Tire & Auto

1361 ROUTE 5, Orleans

50.2 miles

This salvage yard aims to deliver an highly competent assistance at good prices, with an immense breadth of inventory and with the guarantees requested by its buyers. Visitors have the possibility to meet this junk yard in the city of Orleans (Vermont). Additional info: The Central Farm Tire & Auto is open Monday to Saturday.

9

9. Gaston Poulin Pieces d´autos inc.

948, 14ème avenue, C.P. 2001, La Guadeloupe

51.2 miles

Buyers can visit this wrecking yard near the surroundings of the municipality of La Guadeloupe (Quebec). Its preeminent business model is the sale of auto spare parts at the best prices in the surroundings and providing all the guarantees that you could wish. In case you want to reach them, you can achieve it this way: tollfree, email or phone.

10

10. Tourville pièces d'autos inc

5065, chemin Tourville, Drummondville

52.4 miles

If you are looking for the best used spare parts in the Drummondville surroundings, this wrecking yard can be a perfect choice to obtain them at a great price. You can contact them via: email, phone or tollfree.