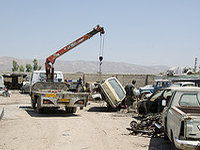 Located in the vicinity of Columbus (Texas), this junk yard is providing truck parts, car parts or classic parts to its potential customers. In order to inquire about any spare parts, junk car value estimation, buy or sell scrap cars, please contact them via email, tollfree and phone.
Hours of operation:
Tuesday: 1:00 pm - 5:00 pm
Wednesday-Saturday: 8:00 am - 5:00 pm
Sunday: CLOSED
Monday: CLOSED
salvage yard
used auto & truck parts
USA, Texas, Colorado, Columbus
1618 Smith Rau Rd, Columbus, TX 78934
Operating Hours
Place here your opinion below!
Need used parts? Submit your parts request for a quote
There exist a massive variety of makes and models on the market, so there is a probability that you won't find the second hand spares you are looking for in this wrecking yard, regardless of its impressive catalogue. Don't worry, we've thought of everything and retrieved other centers for you nearby.
This list (which is arranged from nearest to farthest) displays additional junkyards close to the surroundings of Columbus (Texas):