Last update on October 18, 2022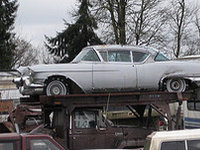 In case immersed in the search of second-hand spares compatible with your car at the most competitive prices and with the best guarantees near the area of Moultrie (Georgia), this junk yard certainly provides what you want. Its business area targets on the distribution of car parts, always with the most strict quality supervision. You can also ask them if you need a valuation of your junk auto or if you are aimed to buy an used auto at a great price. Itu00b4s viable to get in touch with them by these means: email and phone. Detailed information: The COX AUTO SALVAGE is open Monday to Friday.
Their business model:
car parts
USA, Georgia, Colquitt, Moultrie
2245 Sylvester Hwy, Moultrie, GA (Zipcode: 31768)
Business Hours
COX AUTO SALVAGE on YouTube
Place here your review now!
Need used parts? Submit your parts request for a quote
Improve your sales with us!
More than 1,000,000 monthly visitors
This section pretends to provide you a little more, as added to the contact info of this junkyard. We try to give you more search possibilities so that you can locate the cheaper junk parts as soon as possible. This listing is sorted from nearest to farthest from this city.
Find under this text other junk yards in the surroundings of Moultrie (Georgia):