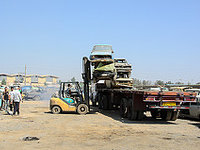 This wrecking yard located near the city of Fairmount (Georgia), provides to its purchasers. To ask about any used vehicle pieces, junk auto value estimation, trade or purchase second-hand vehicles, you can contact by email, phone or tollfree. The Collis & Son Junk Yard operating schedule info is not offered yet.
USA, Georgia, Gordon, Fairmount
14479 Hwy 53, Fairmount, GA 30139
Leave your comments here!
Need used parts? Submit your parts request for a quote
New blog posts that may be of your interest
We couldn't be the best junk yard database on internet for the U.S. if we didn't deliver you some additional elements to help you in your search for used spare parts.
Browse this list (which is organized from nearest to furthest) for more salvage yards in the vicinity of Fairmount (Georgia).