Clark's Auto Salvage


East Freedom, Pennsylvania
Want to ADVERTISE this business?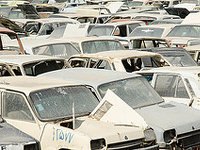 This salvage yard situated in the area of East Freedom (Pennsylvania), sells car parts to its clients, buys non specialized scrap metals, scrap cars with proper documentation, tow jobs, and will pick up customers cars on site if requested for scrap with provided proper documentation. To ask about any second-hand parts, estimated junk car value, sell or acquire used vehicles, you can get in touch with us via email, tollfree and phone. Their working schedule can be found below.
What you can find: car parts truck parts tractor parts cash for junk car
USA, Pennsylvania, Blair, East Freedom
243 Chevrolet Dr, East Freedom, PA (Zipcode: 16637)
jclarksautosalvage@gmail.com
https://clarksautosalvage.com/
Clark's Auto Salvage Schedule
Clark's Auto Salvage Reviews
Share your opinion! Review Clark's Auto Salvage now
---
Junkyards near East Freedom
Check this list for additional wrecking yards in the surroundings of East Freedom (Pennsylvania):