Last update on August 21, 2014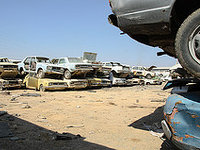 This junk yard situated in the area of Blacksville (West Virginia), offers car parts and scrap metal to its visitors. If you aim to ask about any used vehicle pieces, junk auto value estimation, gain money for junk cars or used autos for sale, feel free to get in touch with them via phone. The Chissys Auto Wreckers is open Monday to Friday.
Their business model:
scrap metal car parts
USA, West Virginia, Monongalia, Blacksville
Blacksville, WV (Zipcode: 26521)
Business Hours
Want to sell your junk car for cash?
Hoping to quickly obtain top dollar cash for your previously owned auto? If so, you found the correct spot.
Complete the step-by-step form in under 2 minutes by providing the details about your car.
With no obligation, receive the purchase offer for your vehicle right away. See the amount you will receive for your vehicle.
Get immediate payment and benefit from the advantage of free towing service. Sell your vehicle with no worries, as it will be retrieved from wherever at no extra cost.
Chissys Auto Wreckers Reviews
Place here your comments now!
Need used parts? Submit your parts request for a quote
Improve your sales with us!
More than 1,000,000 monthly visitors
We could not call ourselves the best junk yard repository on internet for the United States if we didn't offer you some extra components in order to assist you in your search for junk pieces.
Browse this list (which is arranged from nearest to furthest) for additional salvage yards close to the area of Blacksville (West Virginia).