Last update on August 21, 2014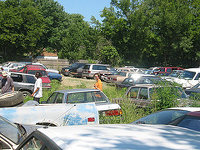 In case you are immersed in the search of junk parts for your vehicle at the best prices but without giving up the best guarantees near the area of Morgantown (West Virginia), this wrecking yard certainly offers what you want. Its business model focuses on the delivery of scrap metal or car parts, always with the most strict quality supervision. You can also inquire them if you need a valuation of your second hand auto or if you´re looking to buy a junk vehicle at a great price. It´s feasible to get in touch with them by these means: phone. More info: The Blands Auto Wrecking is open Monday to Friday.
What they sell:
scrap metal car parts
USA, West Virginia, Monongalia, Morgantown
1117 University Ave, Morgantown, WV (Zipcode: 26505)
Operating Hours
Want to sell your junk car for cash?
If you need to quickly get rid of your junk car and get top dollar cash for it, in that case you have come at the right location.
Complete the step-by-step form in under 2 minutes by providing the details about your car.
Receive the purchase offer for your vehicle instantly and with no obligation. See the amount you will be paid for your vehicle.
Get immediate payment and benefit from the advantage of free towing service. Sell your vehicle with no worries, as it will be retrieved from anywhere at no additional cost.
Blands Auto Wrecking Reviews
Need used parts? Submit your parts request for a quote
Improve your sales with us!
More than 1,000,000 monthly visitors
This page wants to provide you a little more, apart from the contact information related to this junk yard. We try to give our users more search options with the goal that you can locate the best second hand pieces as soon as possible. This listing is sorted from nearest to farthest from this municipality.
Find under this text more wrecking yards close to the area of Morgantown (West Virginia):
1

1. Busters Auto Wrecking

7 Lower Hildebrand Rd, Morgantown

The junk yard we show here is placed near Morgantown (West Virginia) and it's distributing top condition auto pieces to its potential customers in the area. In case you are aimed to demand a quote for your used auto or ask for a precise used piece, you can contact them using phone. This junk yard has been voted 1 times by previous visitors.

2

2. Bens Auto Wrecking

4220 Mason Dixon Hwy, Maidsville

5.5 miles

It's easy to save hundreds of dollars on the conservation of your dear vehicle by getting second-hand spare parts with guarantee in this leading in Maidsville surroundings business. They're open from Monday to Friday.

3

3. Jordan Auto Parts, Inc.

217 Moffit Rd, Dilliner

8.7 miles

In case you're looking for the highest quality junk pieces near the Dilliner zone, this junkyard can be an excellent pick to buy them at a great price. Feel free to contact them using: phone, tollfree and email. The Jordan Auto Parts, Inc. is open Monday to Friday.Other customers have left 6 reviews about this salvage yard.

4

4. Busters Auto Salvage & Towing

Rr 2, Masontown

9.3 miles

You can save large amounts of money on the maintenance of your dear automobile by obtaining used spare-parts without giving up the minimal warranties in this eminent in Masontown vicinity junkyard. They are open from Monday to Friday.

5

5. Jacks Recycling

226 Mt.Morris Rd, Mount Morris

12.3 miles

This junkyard wants to distribute a very skilled assistance at lower prices, gathering a considerable depht of catalog and with the warranties demanded by its buyers. Users have the possibility to find this wrecking yard near the town of Mount Morris (Pennsylvania). They are open from Monday to Friday.In addition, you may read 1 thoughts in order to know more about this business.

6

6. Larew Auto Wrecking

Independence

13.5 miles

The finest method to economize large amounts of money on second hand parts suitable for your vehicle is to contact a junkyard and this is an excellent option in the Independence surroundings. They are open from Monday to Friday.

7

7. Medved Auto Salvage

Smithfield

13.9 miles

The ideal technique to save hundreds of dollars on used parts for your auto is by visiting a wrecking yard and this is an exceptional option near the Smithfield area.

8

8. Ewart Auto Salvage

Masontown

14.7 miles

Purchasers have the opportunity to talk with the friendly managers of this junkyard by these methods: email, phone or tollfree. If you want to get high quality auto pieces in the town of Masontown (Pennsylvania), they are an inescapable pick.

9

9. Morris Auto Wrecking

Morgan Rdg, Fairmont

14.9 miles

Buyers can reach this junkyard near the vicinity of the town of Fairmont (West Virginia). Its essential business model is the sale of vehicle spares with the best prices in the area and providing all the guarantees that you may request. In case you want to reach them, you can do it by these methods: phone.

10

10. Pick Up City

Fairmont

14.9 miles

Customers have the opportunity to locate the welcoming managers of this salvage yard by these methods: phone, email and tollfree. In case you want to purchase high quality vehicle pieces in the town of Fairmont (West Virginia), they are an incredible pick.