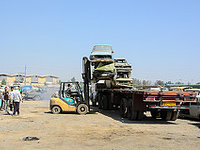 In case you're looking for junk spares compatible with your vehicle at the lowest prices but without giving up the best guarantees near the area of Flintstone (Georgia), this wrecking yard probably has what you need. Its business area targets on the delivery of car parts, always including the most meticulous quality control. You can also ask them if you need a quote for your second hand vehicle or if you´re aimed to buy an used vehicle at a low price. It is viable to get in touch with them by these means: email, tollfree or phone. Additional information: The Chattanooga Valley Used Auto Pts. is open from Monday to Friday.
USA, Georgia, Walker, Flintstone
135 Chattanooga Valley Road, Flintstone 30725
Operating Hours
Need used parts? Submit your parts request for a quote
This page pretends to offer you something else, as added to the contact information related to this junk yard. We work to give our users additional search possibilities so that you can find your junk spare parts preventing you from wasting time. This listing is sorted from closest to farthest from this city.
Check here additional salvage yards in the surroundings of Flintstone (Georgia):