Last update on August 21, 2014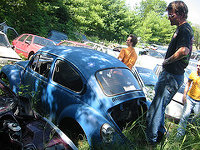 You have the opportunity to find this junk yard close to the surroundings of Denham Springs (Louisiana). It offers scrap metal to its clients. If you want to inquire about any used pieces, junk car value estimation, get cash for junk autos or junk cars for sale, you can contact the dealer by using phone. The Browns Salvage Incorporated is open Monday to Friday.
What they do:
scrap metal
USA, Louisiana, Livingston, Denham Springs
9430 Forrest Delatte Rd, Denham Springs, LA (Zipcode: 70726)
Business Hours
Browns Salvage Incorporated Reviews
Need used parts? Submit your parts request for a quote
Improve your sales with us!
More than 1,000,000 monthly visitors
New blog posts that may be of your interest
This page wants to deliver you a little more, apart from the contact details of this junkyard. We try to show you more search possibilities with the goal that you can find nearby used pieces in the shortest possible time. This listing is organized from nearest to furthest from this municipality.
Find under these lines additional wrecking yards close to the surroundings of Denham Springs (Louisiana):