Last update on August 21, 2014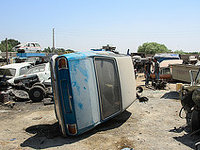 In case you're looking for used spares compatible with your auto at the lowest prices and with great warranties close to the surroundings of Hammond (Louisiana), this junkyard probably has what you want. Its business area targets on the distribution of car parts or scrap metal, always with the most scrupulous quality control. You can also ask them if you want a quote for your used auto or if you are interested in buying a second hand vehicle at a low price. It´s viable to contact them by these means: phone. Additional information: The Albany Auto Salvage & Sales Inc is open Monday to Friday.
What they sell:
scrap metal car parts
USA, Louisiana, Tangipahoa, Hammond
27600 Highway 43, Hammond, LA (Zipcode: 70403)
Business Hours
Albany Auto Salvage & Sales Inc Comments
Place here your opinion now!
Need used parts? Submit your parts request for a quote
Improve your sales with us!
More than 1,000,000 monthly visitors
This section pretends to deliver you something else, apart from the contact details related to this junkyard. We work to show our visitors additional search options so that you can locate the cheaper junk pieces preventing you from wasting time. This list is organized from closest to furthest from this location.
Check here additional wrecking yards close to the surroundings of Hammond (Louisiana):