Last update on December 31, 2018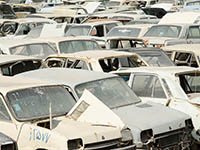 This salvage yard placed in the city of Sellersville, PA. To ask about any second-hand parts, junk auto quotes, get cash for junk cars or used autos for sale, you can get in touch with them via phone or email. Opening schedule can be located below.
What they do:
car parts scrap metal truck parts cash for junk car
USA, Pennsylvania, Bucks, Sellersville
1517 Diamond Street, Sellersville, PA (Zipcode: 18960)
Operating Hours
Bill Boyds Used Auto & Truck Parts Reviews
Share your comments below!
Need used parts? Submit your parts request for a quote
Improve your sales with us!
More than 1,000,000 monthly visitors
We couldn't be the leading junk yard repository online for the U.S. if we didn't offer you some extra features in order to help you in your search for used pieces.
Check this list (which is arranged from closest to farthest) for more junk yards close to the vicinity of Sellersville (Pennsylvania).