Last update on August 21, 2014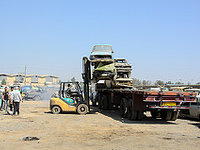 This wrecking yard placed near the municipality of Inkster (Michigan), delivers car parts to its visitors. To ask about any second-hand pieces, junk auto quotes, sell or purchase junk autos, please get in touch with them by phone, tollfree or email. The Bishop's Auto Wrecking business schedule info isn't included so far.
Their business model:
car parts
USA, Michigan, Wayne, Inkster
Operating Hours
Want to sell your junk car for cash?
Hoping to quickly obtain top dollar cash for your used vehicle? If that's the case, you come to the appropriate spot.
Fill out the step-by-step form in under 2 minutes by providing the details about your car.
Receive the purchase offer for your vehicle right away and without any obligation and find out the sum you will be paid for your car.
Get instant payment and benefit from the ease of free towing service. Get rid of your vehicle with no worries, as it will be collected from anywhere at no additional cost.
Bishop's Auto Wrecking Reviews
Need used parts? Submit your parts request for a quote
Improve your sales with us!
More than 1,000,000 monthly visitors
We could not call ourselves the finest junkyard repository online for the United States if we didn't offer you some additional components to assist you in your search for junk parts.
Review this listing (which is sorted from nearest to farthest) for additional salvage yards near the surroundings of Inkster (Michigan).
1

1. Bishop Auto Wrecking

2780 Spring Hill Ave, Inkster

You can economize large amounts of money on the conservation of your loved auto by buying used parts without giving up the minimal warranties in this well-known in Inkster neighborhood wrecking yard. Additional information: They work from Monday to Friday.

2

2. Murphy Auto Wrecking

Inkster

Customers can visit this salvage yard close to the vicinity of the municipality of Inkster (Michigan). Its main business model is the distribution of auto parts with the best prices in the vicinity and offering all the guarantees that you could require. If you are aimed to reach them, you can do it by these methods: phone, tollfree or email.

3

3. Westgate Auto Parts

Westland

3.8 miles

You can save a lot of money on the repairs of your dear car by purchasing junk spares without giving up the necessary warranties in this leading in Westland surroundings salvage yard.

4

4. Michigan Imported Cars Inc.

Westland

3.8 miles

This junkyard wants to offer a very specialized and qualified assistance at lower prices, with an extensive variety of inventory but without giving up the guarantees requested by its purchasers. Users have the opportunity to reach this junk yard in the town of Westland (Michigan). This salvage yard has been voted 1 times by previous users.

5

5. Scrap Busters, Inc.

Wayne

3.8 miles

This junkyard wants to deliver an highly proficient service at incredible prices, gathering a broad diversity of inventory and with the warranties requested by its purchasers. You have the possibility to reach this business in the town of Wayne (Michigan). Other users have shared 2 opinions about this junk yard.

6

6. Detroit Used Auto Sales

7320 Appoline St, Dearborn

5.3 miles

This junkyard placed in the municipality of Dearborn (Michigan), offers a very professional service to its purchasers, with surprising offers but with the highest excellency and a generous breadth of inventory. Additional information: They work from Monday to Friday.

7

7. Dearborn Auto Clinic

23645 Ford Rd, Dearborn

5.3 miles

The finest approach to save hundreds of dollars on second hand parts suitable for your vehicle is by approaching a junkyard and this is an excellent election close to the Dearborn surroundings. The Dearborn Auto Clinic is open from Monday to Saturday.

8

8. Glens Car Truck II

Taylor

5.5 miles

Do you own an aged car or are you trying hard to locate second-hand pieces for your automobile? This directory advise you to approach this junkyard, since it provides a huge catalog.

9

9. Taylor Auto Salvage

16211 Pardee Rd, Taylor

5.5 miles

This salvage yard located near the city of Taylor (Michigan), provides an highly competent service to its buyers, offering surprising discounts but with the expected quality and a huge diversity of supply. They work from Monday to Sunday.This junk yard has been rated 3 times by our visitors.

10

10. C. T. S. Auto Parts, Inc.

Taylor

5.5 miles

The junk yard we show here is placed in Taylor (Michigan) and it's providing the highest quality vehicle pieces to its eventual purchasers near the environs. If you want to request a quote for your old vehicle or ask for a precise junk piece, feel free to contact them via email, phone or tollfree.