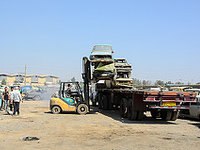 You can find this junkyard in the city of Victoria (Texas). It offers car parts to its clients. If you want to inquire on any used parts, estimated junk car value, get cash for junk cars or junk cars for sale, you can contact the business via email and phone. The Big State Auto Salvage schedule information can be located below.
used auto & classic car parts
shipping available
USA, Texas, Victoria, Victoria
232 Big State Rd, Victoria, TX 77905
Business Hours
Need used parts? Submit your parts request for a quote
This section aims to deliver you something else, apart from the contact information of this junk yard. We work to give you additional search possibilities so that you can locate your junk spare parts in the shortest possible time. This list is organized from closest to furthest from this location.
Find below more junk yards close to the vicinity of Victoria (Texas):