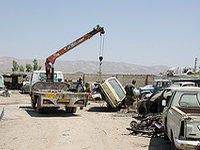 If you're immersed in the search of used spares which an fit your auto at the lowest prices but without giving up the expected guarantees near the area of Sycamore (Illinois), this junk yard surely delivers what you want. Its business area targets on the delivery of , always with the most strict quality control. You can additionally inquire them if you want a valuation of your second-hand vehicle or if you are interested in buying a second hand auto at a good price. It is possible to get in touch with them by these means: phone. More info: The B & O Auto Parts & Wreckers Inc. is open from Monday to Friday.
USA, Illinois, Dekalb, Sycamore
Operating Hours
Place here your review below!
Need used parts? Submit your parts request for a quote
This section wants to offer you a little more, as added to the contact information of this junkyard. We work to give our users more search possibilities so that you can find the cheaper used spares preventing you from wasting time. This list is sorted from closest to farthest from this municipality.
Check under these lines additional wrecking yards near the vicinity of Sycamore (Illinois):