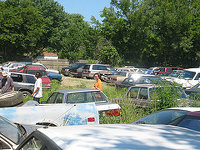 This junk yard based close to the municipality of West Chicago (Illinois), provides to its visitors. To ask about any second hand parts, estimated junk car value, gain money for junk vehicles or junk vehicles for sale, feel free to get in touch with them by phone. The Auto Crusher The business schedule information is not present yet, despite this you can access its website.
USA, Illinois, Dupage, West Chicago
651 W Washington St, West Chicago, IL 60185
Business Hours
Leave your comments here!
Need used parts? Submit your parts request for a quote
New blog posts that may be of your interest
We could not call ourselves the leading junkyard directory on internet for the U.S. if we didn't deliver you some extra features to help you in your search for second-hand pieces.
Review this listing (which is organized from closest to farthest) for more junkyards in the area of West Chicago (Illinois).