Last update on August 21, 2014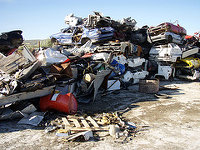 Near the surroundings of Benton Harbor (Michigan) is placed this business, which is superb for users aimed to purchase the finest junk parts for their cars, but without having to spend large amounts of dollars. Here you will be able to purchase car parts and scrap metal with the expected warranties in the industry and excellent customer service. In case you are aimed to contact them, you can do so: phone. More information: The August Pohl Auto Wreckers is open from Monday to Friday.
Their business model:
scrap metal car parts
USA, Michigan, Berrien, Benton Harbor
2670 Territorial Rd, Benton Harbor, MI (Zipcode: 49022)
Business Hours
August Pohl Auto Wreckers Reviews
Need used parts? Submit your parts request for a quote
Improve your sales with us!
More than 1,000,000 monthly visitors
There is a massive assortment of makes and models on the market, so there's a possibility that you will not locate the second hand parts you're looking for in this junkyard, despite its deep catalogue. Don't worry, we have thought of everything and retrieved other centers for you nearby.
This list (which is organized from closest to farthest) gathers additional junk yards near the surroundings of Benton Harbor (Michigan):