Last update on July 7, 2021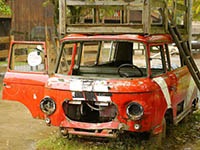 Located in the city of Fruitland Park (Florida), this salvage yard is offering truck parts or car parts to its potential purchasers. If you want to inquire about any second-hand parts, junk car value estimation, buy or sell scrap cars, you can contact them by phone 352-787-8284 The American Auto & Truck Salvage inc. Open Mon -Fri 8-5
What they do:
car parts truck parts cash for junk car
USA, Florida, Lake, Fruitland Park
2363 US HWY 441/27, Fruitland Park, FL (Zipcode: 34731)
Business Hours
When you're considering the disposal of your vehicle at a salvage yard near Fruitland Park, FL, be assured that you have several options to select from.
In order to promptly get a fair quotation, you can phone us at 1-833-693-5944 or complete our user-friendly

online form

. Your pre-owned vehicle may attract interest from several recyclers, ensuring that you receive an exceptional amount for it.
If you want to increase the profitability of your car, think about selling its individual parts separately through a classified listing. By sending an ad, you can utilize your auto's full potential and attract buyers with genuine interest in your used spares.
Under these lines, you'll locate a comprehensive directory of the closest auto salvage yards. Pause to review the list and contact them separately.
American Auto & Truck Salv., Inc. Reviews
Place here your comments below!
Need used parts? Submit your parts request for a quote
Improve your sales with us!
More than 1,000,000 monthly visitors
There exist a massive diversity of makes and models for sale, so there is a possibility that you will not find the junk parts you are looking for in this junkyard, despite its deep inventory. Don't worry, we have already thought about that and retrieved other recyclers for you in the area.
This list (which is sorted from closest to furthest) contains more junk yards in the vicinity of Fruitland Park (Florida):