Last update on May 11, 2022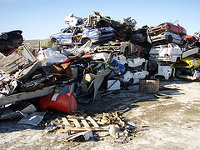 This 9 Acre salvage yard situated in the city of Taos (New Mexico), delivers Used Auto Parts for Trucks and Cars. Also Motorcycle Parts. We sell Motors, Transmissions,
Starters, and more. We are also a recycling center. We Buy Aluminum Cans, Aluminum, Copper, Brass, Batteries, Lead, Radiators, Stainless Steel. We also Buy Vehicles WITH TITLES only.
What you can find:
car parts classic parts motorcycle parts scrap metal snowmobile parts atv parts
USA, New Mexico, Taos, Taos
#26 N Mesa Rd, Taos N.M. 87529, Taos, NM (Zipcode: 87529)
Business Hours
Aguirre Salvage LLC Reviews
Need used parts? Submit your parts request for a quote
Improve your sales with us!
More than 1,000,000 monthly visitors
We could not call ourselves the best salvage yard database on internet for the United States if we didn't provide you some additional elements in order to assist you in your search for second-hand pieces.
Review this list (which is sorted from closest to furthest) for more junk yards in the surroundings of Taos (New Mexico).
1

1. Boneyard Auto Salvage

Espanola

61.1 miles

The salvage yard we display here is settled in Espanola (New Mexico) and it's offering incredible value auto spares to its eventual customers close to the environs. In case you are aimed to request a quote for your junk vehicle or plead for a specific junk spare, you can contact them via phone. This salvage yard has been rated 1 times by our users.

2

2. Gallegos Scrap Metal

Mc Curdy Rd, Espanola

61.1 miles

The junk yard we show here is situated close to Espanola (New Mexico) and it's providing high performance vehicle spares to its potential purchasers in the vicinity. In case you are aimed to demand a quote for your junk car or ask for a particular second-hand piece, please contact them using phone.

3

3. Holmes Wrecker Service

403 Calle Chavez, Espanola

61.1 miles

Interested users have the opportunity to locate this junkyard close to the environs of the city of Espanola (New Mexico). Its essential business area is the distribution of auto parts with the most incredible prices in the area and with all the warranties that you could expect. In case you want to contact them, you can achieve this by these means: phone.

4

4. Valley Wrecker Service

401 Travis, Espanola

61.1 miles

They provide an highly capable assistance at good prices, with an extensive breadth of inventory and with the warranties requested by its clients. Visitors have the possibility to reach this business near the municipality of Espanola (New Mexico). More information: The Valley Wrecker Service is open from Monday to Friday.

5

5. Capital Scrap Metals Inc

1162 Cooks Ln, Santa Fe

86.1 miles

Users have the opportunity to locate this salvage yard in the neighborhood of the city of Santa Fe (New Mexico). Its primary business model is the sale of auto pieces with the most reasonable prices in the state and with all the guarantees that you may require. If you need to reach them, you can do it by these methods: phone.