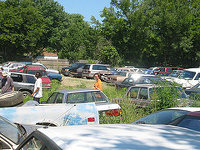 If you are aimed to look for second-hand spares which an fit your vehicle at the best prices but without compromising the expected warranties near the vicinity of Abilene (Texas), this junk yard surely provides what you need. Its business model is focused on the distribution of car parts, always including the most meticulous quality control. You can additionally inquire them if you want a valuation of your used auto or if you are aimed to buy a junk auto at a good price. It is possible to get in touch with them by these methods: email or phone. Detailed information: The Abilene Auto Wrecking is open from Monday to Saturday.
used auto parts store
used auto parts
USA, Texas, Taylor, Abilene
4001 Pine St, Abilene, TX 79601
Operating Hours
Need used parts? Submit your parts request for a quote
This section aims to offer you something else, apart from the contact info related to this salvage yard. We work to give our visitors more search options so that you can locate the cheaper second hand parts in the shortest possible time. This list is sorted from nearest to furthest from this location.
Locate here more junk yards close to the surroundings of Abilene (Texas):