Last update on December 29, 2015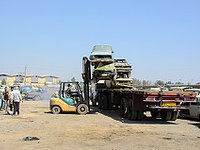 Interested parties have the possibility to find this wrecking yard near the surroundings of St. John's (Newfoundland and Labrador). It offers car parts to its clients. If you are aimed to inquire about any second-hand parts, junk car vehicle quotes, get cash for junk autos or junk cars for sale, you can contact the business via email, phone and tollfree. The Vatcher's Auto Parts business schedule information isn't present so far, however, you can browse its website.
Their business model:
car parts
Canada, Newfoundland and Labrador, St. John's
225 Thorburn Road, St. John's, NL (Zipcode: A1B 3M9)
Business Hours
Should you be in the situation of evaluating the disposal of your car in a St. John's, NL junkyard, rest assured that you have a range of possibilities to choose from.
To promptly receive a good offer, reach out to us at 1-833-693-5944 or fill out our convenient

online form

. Many enterprises may have interest in your pre-owned auto, so you will definitely get the most money possible.
For optimal income from your car, it's worthwhile considering the selling of its individual components through a classified listing. By creating an ad, you can unlock the full potential of your vehicle and draw in buyers who are specifically looking for used components.
Under these lines, you'll locate a comprehensive collection of the closest auto junk yards. Take a moment to review the list and contact them one by one.
Vatcher's Auto Parts Reviews
Leave your comments here!
Need used parts? Submit your parts request for a quote
Improve your sales with us!
More than 1,000,000 monthly visitors
This page aims to provide you a little more, apart from the contact details of this salvage yard. We work to give our visitors more search possibilities with the goal that you can find nearby used spare parts as soon as possible. This list is arranged from closest to farthest from this municipality.
Find under this text additional junk yards close to the surroundings of St. John's (Newfoundland and Labrador):
1

1. A1 Automotive

395 East White Hills Road, St. John's

The ideal technique to save large amounts of money on second hand pieces for your automobile is by approaching a wrecking yard and this is an outstanding pick close to the St. John's location. More information: This junk yard timetable info cannot be found, despite this you can visit its website.Other users have left 3 thoughts about this junk yard.

2

2. Auto Parts Network

6 Corey King Drive, Mount Pearl

4.7 miles

Visitors have the possibility to talk with the welcoming managers of this junkyard using these means: email, tollfree and phone. In case you want to buy high quality vehicle pieces in the town of Mount Pearl (Newfoundland and Labrador), they are an inescapable pick. The Auto Parts Network timetable information is not available but you can visit their website.