U-Pull and Save


Mason, Michigan
Want to PROMOTE this business?
Last update on August 26, 2021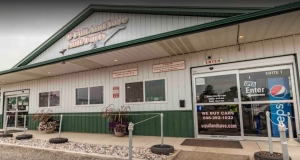 Looking for used car or truck tires? We have a huge selection of discount used car & truck tires, wheels, and tire sets. Don't forget to check our the tires we have inventoried on the shelf ready to go.

Need a cheap used car or truck battery? We are the best place to buy used car & truck batteries. Used batteries and like new refurbished batteries available at both locations. A 1 year warranty can be purchased for all batteries for an additional charge.

U-Pull & Save Auto Parts has 2,500+ cars & trucks between 2 Michigan locations in Pontiac and Mason. 25,000+ used auto parts, auto body parts, car and truck engines & transmissions, and much more! Our auto parts yards are organized and kept clean for your ease of pulling parts and getting back on the road.

Need to sell your car? We pay top dollar for your used car or truck running or not. Don't scrap your used car we pay more. Towing available, call and get a quote today!
What you can find: car parts cash for junk car
USA, Michigan, Ingham, Mason
1325 N. Cedar, Mason, MI (Zipcode: 48854)
https://u-pullandsave.com/
U-Pull and Save Schedule
Share your opinion! Review U-Pull and Save now
Latest blog posts that may be of your interest
Junkyards near Mason
Check this list for more scrap yards in the surroundings of Mason (Michigan):
Closest Junk Yards to Mason
Address
Distance
Mason
Purchasers have the possibility to reach this salvage yard near the surroundings of the town of Mason (Michigan). Its essential business model is the marketing of vehicle pieces with the most reasonable prices in the surroundings and providing all the guarantees that you may wish. In case you need to reach them, you can do it this way: tollfree, phone and email.
2740 Eaton Rapids Rd, Lansing
16.1 miles
This business aims to deliver a very specialized and qualified assistance at very reasonable prices, with a huge depht of inventory but without giving up the warranties expected by its buyers. Visitors have the opportunity to meet this junkyard near the municipality of Lansing (Michigan). Additional info: The Shroyers Auto Parts is open Monday to Friday.
5405 W Mount Hope Hwy, Lansing
16.1 miles
If you're in the task of looking for the best junk spare parts near the Lansing surroundings, this business can be an excellent choice to obtain them at a great price. You can contact them via: phone. Additional information: The Cats Part-S-Mart Plus Auto Salvage is open Monday to Friday.
Charlotte
32 miles
Habitants of the Charlotte zone can buy a huge inventory of second-hand spare-parts that will fit with their vehicles in this salvage yard. You can contact them via: email, phone and tollfree. More info: The Davis Motor Sales business schedule information is not available yet.
11399 S Us Highway 27, Dewitt
33.5 miles
If you are in the search for the cheapest used pieces in the Dewitt neighborhood, this wrecking yard can be a perfect pick to buy them at a low price. Feel free to contact them using: phone. More info: The Northside Service is open Monday to Friday.
Jackson
38 miles
The best technique to save a lot of money on spare parts suitable for your automobile is to contact a salvage yard and this is a great pick in the Jackson neighborhood.
7650 Ann Arbor Rd, Grass Lake
41.7 miles
Users can reach this junkyard in the proximity of the municipality of Grass Lake (Michigan). Its fundamental business model is the distribution of vehicle spares at the most reasonable prices in the area but without giving up all the warranties that you may expect. If you are aimed to contact them, you can do it by these means: phone.
405 S National, Howell
47.5 miles
The junkyard you are looking here is situated in Howell (Michigan) and it's delivering high value auto parts to its possible visitors near the vicinity. In case you want to request an estimation for your used automobile or plead for a specific used spare-part, please contact them via phone.
Howell
47.5 miles
Citizens of the Howell zone have the possibility to check a gargantuan catalog of second hand parts for their automobiles in this junk yard. It is possible to contact them using: phone, tollfree or email. Additional information: The Miechiels` Auto Salvage business schedule info is not present yet.
1700 Cornell Rd, Owosso
50.7 miles
Citizens of the Owosso area have the possibility to access a wide catalog of second hand parts compatible with their cars in this business. You can get in touch with them using: phone. Additional info: The American Metal Buyers Incorporated is open from Monday to Friday.