Last update on August 21, 2014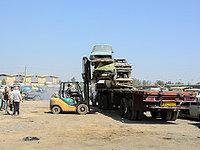 This salvage yard based close to the area of Akron (Ohio), sells car parts to its clients. To inquire on any second hand parts, junk auto value estimation, sell or purchase used vehicles, please get in touch with them by tollfree, phone or email. The Triplett Auto Recyclers ASAP business hours information isn't offered yet.
What they sell:
car parts
Operating Hours
Triplett Auto Recyclers ASAP Comments
Place here your review now!
Need used parts? Submit your parts request for a quote
Improve your sales with us!
More than 1,000,000 monthly visitors
We could not call ourselves the leading junk yard repository online for the U.S. if we didn't deliver you some extra components to help you in your search for second-hand spare parts.
Check this listing (which is arranged from nearest to furthest) for additional junkyards in the vicinity of Akron (Ohio).
1

1. Fox Auto Salvage & Parts Inc

7140 Alliance Rd N, Akron

Interested users have the possibility to locate the attentive managers of this junk yard by these methods: phone. If you are aimed to purchase the best quality auto spares in the city of Akron (Ohio), they are an ineludible pick. This business schedule info is not available, however, you can check its website.

2

2. Giant Auto Parts Auto Wrecking

661 E Tallmadge Ave, Akron

The junkyard you are looking here is settled close to Akron (Ohio) and it's providing incredible condition auto pieces to its eventual visitors close to the environs. In case you need to demand an estimation for your old auto or plead for a precise junk piece, you can get in touch with them using phone.

3

3. D & L Motors

3915 Pearl, Akron

This salvage yard aims to provide a very specialized and professional assistance at great prices, with an extensive breadth of supply and with the warranties expected by its purchasers. Visitors have the opportunity to meet this junkyard in the city of Akron (Ohio). This business operational hours info does not appear in our database but you have the option to visit its web.

4

4. City Auto Wrecking

445 N Arlington St, Akron

If you're looking for the highest quality junk parts in the Akron vicinity, this business can be a perfect choice to buy them at a low price. You can contact them via: phone. Additional information: This salvage yard timetable info cannot be found, however, you can visit its website.

5

5. Bumper To Bumper Auto Recyclers

66 W. Waterloo Rd., Akron

Do you have sleeping in the garage an old vehicle or are you immersed in the search of second-hand spares suitable for your auto? This directory suggest to approach this business, since it provides a wide inventory. This junkyard business hours information is not available yet.

6

6. Buckleys Auto Wrecking

2977 Manchester Rd, Akron

It's easy to save a lot of money on the repairs of your loved car by getting second-hand pieces without giving up the expected warranties in this well-known in Akron vicinity business. More info: The Buckleys Auto Wrecking schedule information is not available, however, you can check its website.This salvage yard has been voted 3 times by previous users.

7

7. L Kq Triplett Auto Recyclers

1435 Triplett Blvd, Akron

Purchasers have the possibility to visit this wrecking yard in the proximity of the town of Akron (Ohio). Its main business model is the marketing of vehicle pieces at the most incredible prices in the state but without giving up all the warranties that you may request. If you want to get in touch with them, you can achieve it this way: phone.

8

8. Lakes Auto Recycling Inc

566 Kenmore, Akron

Residents of the Akron surroundings can obtain an enormous inventory of junk spares for their cars in this salvage yard. You can get in touch with them using: phone. Additional information: This salvage yard opening hours information cannot be found yet.

9

9. Browns Eastside Auto Recycling

2915 Mogadore Rd, Akron

Are you the owner of a junk vehicle or are you looking for second-hand spare-parts for your automobile? We recommend to approach this wrecking yard, since it gathers a gargantuan catalog. This salvage yard business hours information cannot be found yet.Other visitors have shared 1 thoughts about this business.

10

10. Arrow Auto Parts, Inc.

Akron

The ideal approach to avoid wasting large amounts of money on used parts for your automobile is to contact a junk yard and this is an excellent option near the Akron neighborhood.