Last update on June 22, 2018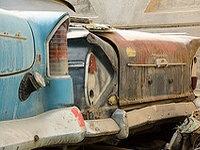 New, used & abused motorcycle parts for all models of motorbikes and scooters from Honda to Yamaha to Suzuki and Kawasaki. We also have Harley Davidson, Triumph and BMW motorcycles. We offer millions of parts and we are the only specialized motorbike junk yard in San Diego county.
What you can find:
motorcycle parts
USA, California, San Diego, Chula Vista
803 Anita Street, Chula Vista, CA (Zipcode: 91911)
Operating Hours
Stocker's Motorcycle Salvage Reviews
Leave your comments here!
Need used parts? Submit your parts request for a quote
Improve your sales with us!
More than 1,000,000 monthly visitors
There exist a huge variety of makes and models for sale, so there is a possibility that you will not find the junk parts you're looking for in this salvage yard, despite its deep catalogue. Don't worry, we have already thought about that and gathered other centers for you nearby.
This list (which is sorted from nearest to farthest) gathers more junk yards near the neighborhood of Chula Vista (California):