Last update on July 22, 2021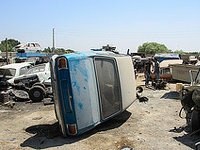 We purchase scrap metal, junk autos, aluminum cans, old batteries, copper and aluminum. We will pay TOP DOLLAR for your scrap metal.
Roll back wrecker service available too. If you can't haul it, we'll come to get it. Call 251-769-4931. We'll purchase tin, metal roofing, junk tractors, and equipment.
Everything has value for us. Bring now your junk, jeave with cash in your hands.
What you can buy:
scrap metal
USA, Alabama, Clarke, Jackson
260 Osprey Drive, Jackson, AL (Zipcode: 36545)
Operating Hours
SMITH'S SCRAP & RECYCLE Reviews
Need used parts? Submit your parts request for a quote
Improve your sales with us!
More than 1,000,000 monthly visitors
This page wants to deliver you something else, as added to the contact details related to this salvage yard. We try to show our visitors more search opportunities with the goal that you can find the best junk parts preventing you from wasting time. This list is organized from closest to farthest from this municipality.
Find under this text additional junk yards near the surroundings of Jackson (Alabama):