Last update on August 21, 2014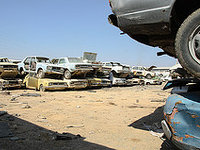 If you are aimed to look for second-hand parts compatible with your car at the lowest prices but without giving up the expected guarantees close to the area of Daleville (Alabama), this junk yard probably delivers what you want. Its business area focuses on the distribution of car parts and cash for junk car, always with the most meticulous quality supervision. You can also inquire them if you need a quote for your second hand auto or if you are aimed to buy an used auto at a great price. It´s feasible to get in touch with them by these means: email, phone or tollfree. Detailed info: The Ron's Auto Wrecking opening hours info isn't included yet.
What you can buy:
car parts cash for junk car
USA, Alabama, Dale, Daleville
Operating Hours
Ron's Auto Wrecking Comments
Need used parts? Submit your parts request for a quote
Improve your sales with us!
More than 1,000,000 monthly visitors
This page pretends to offer you a little more, as added to the contact info of this junk yard. We work to show our visitors more search possibilities so that you can find the cheaper second hand pieces in the shortest possible time. This listing is arranged from closest to furthest from this city.
Check under this text additional wrecking yards in the surroundings of Daleville (Alabama):