Road Runners Auto Parts

JunkYard
Fairford, Manitoba
Want to ADVERTISE this business?
Last update on December 29, 2015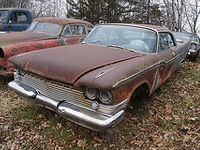 In the area of Fairford (Manitoba) is stablished this junk yard, which is ideal for owners aimed to find and acquire the finest junk spare parts compatible with their autos, but without having to spend an excessive ammount of dollars. Here you will be able to purchase car parts without giving up the expected warranties in the industry and great customer service. In case you are aimed to contact them, you can do so: phone or email. Additional info: The Road Runners Auto Parts opening hours info is not available so far.
What you can find: car parts
Canada, Manitoba, Fairford
Highway #6, Fairford, MB (Zipcode: R0C 0X0)
Road Runners Auto Parts Schedule
Road Runners Auto Parts Reviews
Place here your opinion! Review Road Runners Auto Parts now
Latest blog posts that may be of your interest
Junkyards near Fairford
This list contains more scrap yards near the neighborhood of Fairford (Manitoba):
Closest Junk Yards to Fairford
Address