Last update on June 15, 2020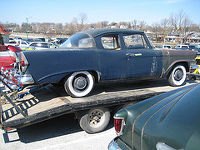 Interested parties can visit this junk yard in the vicinity of Belle Chasse (Louisiana). This business provides car parts to its clients. In case you need to ask on any spare parts, junk car vehicle quotes, sell or acquire a junk car, you can get in touch with the dealer via email and phone. The QUICK RECOVERY AUTO SALVAGE is open from Monday to Sunday.
Their business model:
car parts
USA, Louisiana, Plaquemines, Belle Chasse
511 Engineers Rd, Belle Chasse, LA (Zipcode: 70037)
Operating Hours
QUICK RECOVERY AUTO SALVAGE Reviews
Place here your review here!
Need used parts? Submit your parts request for a quote
This page pretends to offer you a little more, as added to the contact details of this junk yard. We work to give you additional search options with the goal that you can locate nearby junk spare parts as soon as possible. This listing is sorted from closest to furthest from this city.
Find under this text more salvage yards close to the surroundings of Belle Chasse (Louisiana):