Pennells Auto Body


Moravia, New York
Want to ADVERTISE this business?
Last update on January 4, 2019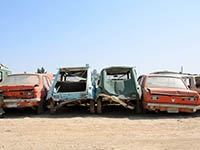 Pennells Auto LLC
* Collision Repair Center
* Independent-all Insurance Companies Accepted
* Free Estimates and Rental Car Transport
* Minor Repairs-To Major. Collision Repairs
* Certified Auto Repair Technitions
* Rated # 1 In Cayuga, Tompkins and Cortland County! * 24/7 Professional Towing
* Wrecker and Flat Bed Service Exceptionally beautiful Selection of Used Cars at very reasonable Prices. Auto Body and Collision Repair Center
24/7 Towing
Exceptionally Fine Late Model Used Cars
For Sale at Low Liw Prices !
What you can find: cash for junk car
USA, New York, Cayuga, Moravia
Rockefeller Rd, Moravia, NY (Zipcode: 13118)
Pennells Auto Body Schedule
Pennells Auto Body Reviews
Leave your opinion! Review Pennells Auto Body now
---
Junkyards near Moravia
Check this list for additional scrap yards in the area of Moravia (New York):