Last update on April 29, 2019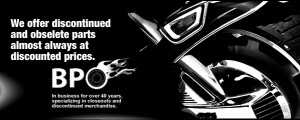 For over 50 years P&F Motorcycles sold Japanese and Harley parts strictly through a retail store, becoming one of the largest motorcycle salvage yards in the United States. Now predominantly involved in internet sales, specializing in discontinued, obsolete, and used motorcycle parts. We our name under which we trade from P&F Motorcycles to Bike Parts Outlet to reflect this change. You can find us on eBay and Craigu2019s List Delaware, serving not just local customer, but to catering to a national and international clientele.
Our emphasis is on items that are difficult to find, such as discontinued or obsolete items, or items that are still currently available and were purchased in bulk so that we are able to pass the savings on to our customers.
What they sell:
motorcycle parts
USA, Delaware, Kent, Dover
143 Glenn Street, Dover, DE (Zipcode: 19901)
Business Hours
P & F Motorcycle Salvage Reviews
Need used parts? Submit your parts request for a quote
Improve your sales with us!
More than 1,000,000 monthly visitors
We couldn't be the leading junk yard repository online for the United States if we didn't provide you some additional features in order to help you in your search for junk spare parts.
Check this list (which is arranged from closest to furthest) for more wrecking yards near the vicinity of Dover (Delaware).
1

1. White Oak Salvage

2159 White Oak Rd, Dover, DE, Dover

This salvage yard aims to provide a very specialized and skilled assistance at good prices, with a huge breadth of inventory and with the guarantees expected by its buyers. You can meet this junkyard in the town of Dover (Delaware). More information: The White Oak Salvage is open Monday to Sunday.

2

2. Fairlane Acres

Dover

They deliver a very efficient assistance at incredible prices, gathering an extensive depht of inventory and with the guarantees demanded by its clients. Visitors have the opportunity to find this salvage yard in the town of Dover (Delaware).

3

3. North Dover Import Auto

Dover

In case you're in the task of looking for the highest quality second-hand pieces in the Dover surroundings, this junkyard is an excellent option to buy them at a low price. You can contact them using: tollfree, phone or email.

4

4. Short's Used Auto Parts

Magnolia

6.6 miles

The junkyard we display here is situated in Magnolia (Delaware) and it's providing high performance auto parts to its eventual customers in the environs. In case you need to request an estimation for your junk car or request for a specific used piece, feel free to get in touch with them via tollfree, email or phone.

5

5. C & M Short

4673 South State St, Magnolia

6.6 miles

You can avoid wasting hundreds of dollars on the maintenance of your dear auto by obtaining junk parts without giving up the minimal warranties in this eminent in Magnolia vicinity salvage yard. This salvage yard opening schedule information is not available yet.This business has been voted 1 times by our visitors.

6

6. Mid-Del Auto Parts

Smyrna

10.8 miles

You can avoid wasting hundreds of dollars on the maintenance of your beloved car by purchasing second hand spares with warranty in this popular in Smyrna vicinity business. Other customers have shared 1 thoughts about this salvage yard.

7

7. T & T Used Auto Parts & Repair

Felton

10.9 miles

Do you have sleeping in the garage an used vehicle or are you looking for second-hand spare parts suitable for your auto? This site recommend a visit to this salvage yard, since it has a huge catalog.

8

8. Route 300 Cars & Auto Parts

Clayton

11.6 miles

In case you are in the search for the cheapest used pieces near the Clayton vicinity, this junk yard could be an ideal option to purchase them at a low price. Feel free to get in touch with them using: email, phone or tollfree.

9

9. Whalen & Purdy Inc

7810 Academy Ln, Marydel

12.6 miles

You can economize a lot of money on the conservation of your prized automobile by buying used spare parts with warranty in this prominent in Marydel neighborhood junkyard. They are open Monday to Friday.

10

10. Henderson Auto Salvage & Towng

Henderson

14.5 miles

They provide a very proficient service at incredible prices, with an immense diversity of inventory but without giving up the warranties requested by its buyers. You have the opportunity to reach this wrecking yard in the town of Henderson (Maryland).