Last update on March 4, 2020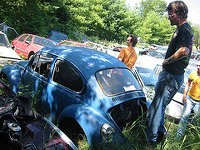 We have a couple hundred classics 1960s up. Mustang, Pontiac, Continental, AMC, loose engines, transmissions, OEM motors and alternators, factory original wheels. Some classic trucks wagons and vans. Photo gallery on website.
What they sell:
classic parts
USA, South Carolina, Florence, Effingham
5620 S. Irby St., Effingham, SC (Zipcode: 29541)
Business Hours
Place here your opinion now!
Need used parts? Submit your parts request for a quote
Improve your sales with us!
More than 1,000,000 monthly visitors
This section pretends to offer you a little more, as added to the contact details of this salvage yard. We try to show our visitors additional search options so that you can find the best junk pieces in the shortest possible time. This listing is organized from nearest to farthest from this municipality.
Check under this text additional junk yards near the surroundings of Effingham (South Carolina):
1

1. Milligans Auto Salvage

Darlington

17.9 miles

You can economize a lot of money on the reparation of your dear auto by getting junk spare-parts without giving up the necessary warranties in this well-known in Darlington area business.

2

2. Ken Baker Originals

Marion

21.7 miles

Customers can reach this business close to the environs of the municipality of Marion (South Carolina). Its essential business area is the distribution of auto parts at the best prices in the vicinity and providing all the guarantees that you could expect. If you want to reach them, you can do it by these methods: email, phone and tollfree.

3

3. Swamp Fox Used Car & Part

Marion

21.7 miles

Are you the owner of an used car or are you immersed in the search of used spares for your auto? We advise you a visit to this junk yard, since it offers an enormous stock.

4

4. Birdman Chevrolet Man

2922 Highway 301 S, Latta

26.6 miles

Residents of the Latta vicinity have the possibility to buy a huge inventory of second hand parts that can fit with their vehicles in this junkyard. It is possible to contact them using: phone. This junkyard business hours info is not available yet.

5

5. JJK Capital Development

85 Rosedale ave, Kingstree

27.2 miles open now

Visitors have the possibility to contact the welcoming managers of this junk yard by this way: phone, email or tollfree. In order to acquire high quality vehicle parts in the city of Kingstree (South Carolina), they are an ineludible option. They're open from Monday to Saturday.

6

6. Stac Recycling, LLC

1744 COWHEAD RD, Hemingway

27.3 miles open now

The finest way to economize a lot of money on second-hand pieces suitable for your auto is by approaching a salvage yard and this is an exceptional choice in the Hemingway zone. They work from Monday to Saturday.

7

7. Stac Auto

1744 COWHEAD RD, Hemingway

27.3 miles open now

They provide a very efficient service at good prices, with a large diversity of catalog and with the warranties expected by its customers. You can find this junk yard near the city of Hemingway (South Carolina). The Stac Auto is open from Monday to Saturday.This junk yard has been voted 1 times by previous visitors.

8

8. Dons Scrap Iron & Metal Company Incorporated

W Broad St, Hemingway

27.3 miles

Are you the owner of a junk car or are you immersed in the search of second hand parts compatible with your auto? This site suggest to approach this wrecking yard, since it provides a wide inventory. This business schedule information does not appear in our database but you can visit its website.Additionally, you can check 1 opinions in order to know more about this business.

9

9. Discount Auto Used Parts & Wrecker Service

303 S 1st Ave, Dillon

33.9 miles

You can economize a lot of money on the conservation of your well-liked automobile by purchasing second hand spares without giving up the expected warranties in this leading in Dillon surroundings business. This junk yard operational hours info cannot be found, however, you have the possibility to check its web.

10

10. Motorcycle Insurance & Dealers Salvage

Sumter

37.4 miles

Buyers have the possibility to locate this salvage yard in the surroundings of the town of Sumter (South Carolina). Its major business model is the marketing of auto spares at the most reasonable prices in the area but without giving up all the guarantees that you may request. If you want to get in touch with them, you can achieve it this way: email, tollfree and phone.