Last update on December 29, 2015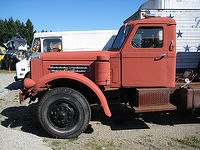 In case you are immersed in the search of second-hand spares which an fit your vehicle at the lowest prices and with the best warranties near the area of Brossard (Quebec), this wrecking yard surely provides what you need. Its business area is focused on the delivery of car parts, always with the most meticulous quality control. You can additionally ask them if you need a valuation of your second hand auto or if you are looking to buy a second hand vehicle at a great price. It´s viable to contact them by these methods: phone or email. Detailed information: The Marcel auto ferraille inc. operating schedule information isn't offered so far.
What they sell:
car parts
9575, Grande-Allée, Brossard, QC (Zipcode: J4Z 3H8)
Operating Hours
Marcel auto ferraille inc. Comments
Need used parts? Submit your parts request for a quote
Improve your sales with us!
More than 1,000,000 monthly visitors
This page wants to offer you something else, as added to the contact information related to this salvage yard. We work to give our visitors additional search opportunities so that you can locate the best junk pieces as soon as possible. This list is arranged from nearest to furthest from this municipality.
Check under this text additional salvage yards close to the vicinity of Brossard (Quebec):