LKQ Dominion Auto Recycling
LKQ Dominion Auto Recycling

JunkYard
Stoney Creek, Ontario
Want to ADVERTISE this business?
Last update on December 29, 2015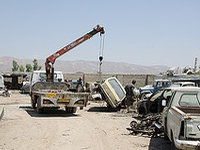 This wrecking yard placed in the city of Stoney Creek (Ontario), provides car parts or scrap metal to its customers. To ask on any second-hand parts, junk auto value estimation, sell or purchase used autos, please get in touch with them via tollfree, phone and email. The LKQ Dominion Auto Recycling opening schedule info is not present yet, however, you can check its web.
What you can find: scrap metal car parts
Canada, Ontario, Stoney Creek
404 Fruitland Road, Stoney Creek, ON (Zipcode: L8E 5L9)
LKQ Dominion Auto Recycling Schedule
LKQ Dominion Auto Recycling Reviews
Leave your opinion! Review LKQ Dominion Auto Recycling now
---
Junkyards near Stoney Creek
Check this list for additional scrap yards in the area of Stoney Creek (Ontario):