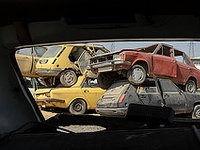 Close to the surroundings of Winnipeg (Manitoba) is placed this junkyard, which is ideal for users aimed to find and buy the best junk spares compatible with their cars, but without having to invest too much money. There you´ll be able to purchase car parts without giving up the expected guarantees of the market and excellent customer service. If you need to contact them, you can do so: tollfree and phone. More info: The LKQ Action Auto Parts operating schedule information isn't included so far, despite this you can browse its web.
used auto parts store
used auto parts
self service
Canada, Manitoba, Winnipeg
2955 Day Street, Winnipeg R2C 2Z2
Share your comments here!
Need used parts? Submit your parts request for a quote
There is a huge variety of makes and models for sale, so there's a probability that you will not locate the junk spares you are looking for in this salvage yard, despite its deep catalogue. Don't worry, we've already thought about that and retrieved other centers for you nearby.
This listing (which is arranged from nearest to farthest) delivers more junk yards close to the neighborhood of Winnipeg (Manitoba):