Kadinger Salvage

JunkYard
Barron, Wisconsin
Want to ADVERTISE this business?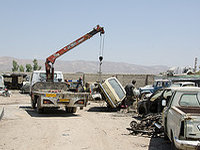 Close to the vicinity of Barron (Wisconsin) is situated this junk yard, which is superb for users aimed to find and purchase the best second hand pieces compatible with their vehicles, but without having to spend an excessive ammount of dollars. There you will be able to find car parts, scrap metal and truck parts with the expected warranties in the sector and excellent customer attention. In case you want to contact them, you can do so: email, phone or tollfree. Additional information: The Kadinger Salvage business schedule information is not present so far.
What you can find: scrap metal truck parts car parts
USA, Wisconsin, Barron, Barron
Kadinger Salvage Schedule
Leave your opinion! Review Kadinger Salvage now
Latest blog posts that may be of your interest
Junkyards near Barron
This list displays more junk yards near the neighborhood of Barron (Wisconsin):
Closest Junk Yards to Barron
Address
Distance
Birchwood
35.9 miles
Residents of the Birchwood area can check an extensive inventory of used parts for their autos in this salvage yard. You can get in touch with them using: phone, tollfree and email. More information: The Brantwood auto opening schedule info is not available so far.
Wheeler
40.3 miles
This business placed in the city of Wheeler (Wisconsin), offers a very specialized and efficient service to its customers, offering excellent discounts but with the best excellency and a large breadth of inventory. Visitors have the possibility to get in touch with them using: email, phone or tollfree.
Downing
45.7 miles
Do you have an used car or are you immersed in the search for used spares for your auto? We recommend a visit to this junk yard, since it has a gargantuan inventory. Additional info: The Kadinger Salvage opening schedule info is not included yet.
N6340 Mann Rd, Spooner
46.9 miles
You can economize hundreds of dollars on the repairs of your well-liked vehicle by purchasing used pieces with warranty in this leading in Spooner area business. More info: The Spooner Truck & Auto Recyclers is open from Monday to Friday.
Centuria
55.7 miles
They provide a very qualified service at great prices, with an excellent breadth of inventory and with the guarantees demanded by its clients. You can meet this junk yard in the municipality of Centuria (Wisconsin). More information: The Strandburg`s Auto timetable info is not included yet.
Siren
59.7 miles
Customers can find this salvage yard in the environs of the town of Siren (Wisconsin). Its primary business area is the distribution of vehicle pieces at the best prices in the area and providing all the warranties that you may require. If you want to contact them, you can do it by these methods: tollfree, email or phone.
Cornell
60.3 miles
This salvage yard is placed in Cornell (Wisconsin) and it's providing the best quality auto parts to its eventual clients in the area. If you need to request a valuation for your used auto or ask for a specific second-hand part, please contact them via tollfree, email and phone.
E9059 State Road 29, Elk Mound
60.3 miles
This junk yard is situated in Elk Mound (Wisconsin) and it's offering high quality auto pieces to its eventual customers in the proximity. If you want to request a quote for your used vehicle or ask for a specific second-hand piece, please contact them using phone.
Chippewa Falls
63.1 miles
The perfect way to economize a lot of money on spare parts for your car is by visiting a vehicle junk yard, and this is an excellent option in the Chippewa Falls area.
580 200th St # M, Osceola
67.2 miles
If you are looking for the best used spares in the Osceola surroundings, this salvage yard is a great option to obtain them at a low price. You can contact them using: phone. More info: The Lad Auto Crushing is open Monday to Friday.