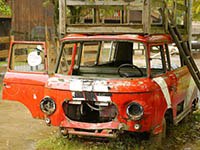 This business located in the city of Sparta (Michigan), provides car parts to its customers. They specialize in parts for classic Mercedes Benz vehicles (190SL, 113 Chassis, 107 Chassis). We are not a scrap yard but we do sell many used parts for these vehicles.
USA, Michigan, Kent, Sparta
951 9 Mile Rd NW, Sparta 49345
Operating Hours
Leave your comments here!
Need used parts? Submit your parts request for a quote
We couldn't be the finest junkyard database on internet for the U.S. if we didn't provide you some extra elements in order to help you in your search for junk parts.
Browse this list (which is arranged from closest to farthest) for additional wrecking yards close to the vicinity of Sparta (Michigan).