HEAVY METAL AUTO SALVAGE


Blairstown, New Jersey
Want to ADVERTISE this business?
Last update on November 11, 2018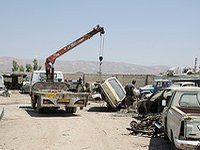 Buyers Of Junk Cars And Trucks. We Drive To You Pay For Your Junk Car Or Truck. Remove Your Junk Car Or Truck And See To It That All Proper Paper Work Is Completed With State Law. We Are A Reliable Company That Prides Ourselves On Being On Time And Courteous. Always Putting The Customer First.
What you can find: cash for junk car
USA, New Jersey, Warren, Blairstown
7 Nightingale Rd, Blairstown, NJ (Zipcode: 07825)
heavymetalautosalvage@gmail.com
heavymetalautosalvage.com
HEAVY METAL AUTO SALVAGE Schedule
HEAVY METAL AUTO SALVAGE Reviews
Share your opinion! Review HEAVY METAL AUTO SALVAGE now
---
Junkyards near Blairstown
Check this list for more junk yards in the area of Blairstown (New Jersey):