Last update on August 25, 2023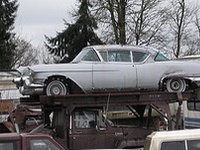 We sell them, you buy them. Come and get your junk cars and your new (to you) auto parts. We don't sell no show ponies, but we sure do have a lot of decent used parts and vehicles that are fixer-uppers. Will deal and negotiate to settle the best price agreed upon by all parties.
Their business model:
cash for junk car
USA, Tennessee, Davidson, Nashville
440 Metroplex DR, Nashville, TN (Zipcode: 37211)
Operating Hours
Hashbrown's Junkers & Clunkers Reviews
Need used parts? Submit your parts request for a quote
Improve your sales with us!
More than 1,000,000 monthly visitors
This section wants to offer you something else, apart from the contact information related to this junkyard. We try to show our visitors more search opportunities with the goal that you can locate the best second hand parts preventing you from wasting time. This listing is organized from closest to farthest from this municipality.
Find below additional wrecking yards in the vicinity of Nashville (Tennessee):
1

1. TENNESSEE MOTORCYCLE SALVAGE

Douglas road Joelton, Nashville

Citizens of the Nashville vicinity have the possibility to obtain a large supply of second hand spare-parts compatible with their autos in this salvage yard. It is possible to contact them via: phone. Additional information: They are open Monday to Friday.This business has been rated 2 times by our users.

2

2. West Nashville Auto Salvage

5604 Centennial Blvd, Nashville

You can save large amounts of money on the conservation of your prized car by buying junk spare parts without giving up the expected warranties in this eminent in Nashville area salvage yard. More info: This salvage yard business hours info is not available yet.

3

3. West Nashville Auto Recycling

5604 Centennial Boulevard, Nashville

It's easy to avoid wasting large amounts of money on the repairs of your beloved car by getting second hand spare parts with warranty in this popular in Nashville area junk yard. The West Nashville Auto Recycling is open Monday to Saturday.

4

4. Abernathy Auto Parts, Inc.

Nashville

Customers have the opportunity to locate this salvage yard in the environs of the town of Nashville (Tennessee). Its central business area is the marketing of auto spare parts with the lowest prices in the area and offering all the warranties that you may require. In case you are aimed to contact them, you can achieve this by these means: email, tollfree or phone.

5

5. Nashville Truck Parts

1471 Gallatin Pike North, Madison

7.5 miles open now

It's easy to save a lot of money on the conservation of your dear car by purchasing junk spare-parts with guarantee in this leading in Madison surroundings junkyard. More information: They work from Monday to Sunday.Additionally, you may read 1 reviews left by other users.

6

6. Goodlettsville Auto Salvage

Goodlettsville

11.9 miles

It's easy to economize hundreds of dollars on the reparation of your well-liked automobile by getting used spare parts with guarantee in this prominent in Goodlettsville surroundings salvage yard. Additionally, you may read 1 thoughts left by other users.

7

7. Stan Sadowski Auto Wrecking

Hendersonville

13 miles

The business we display here is placed close to Hendersonville (Pennsylvania) and it's providing the best condition auto spares to its eventual visitors in the proximity. In case you want to inquire a valuation for your used automobile or request for a precise used spare, please contact them via email, phone and tollfree. In addition, you can read 1 thoughts left by our visitors.

8

8. Powells Wrecker Service

113 Thelma Dr, Mount Juliet

14.6 miles

In case you are in the search for the highest quality junk spares in the Mount Juliet area, this junkyard can be an incredible option to purchase them at a low price. You have the possibility to get in touch with them using: phone. This junkyard business hours info is not available yet.

9

9. Greg Duncan Auto Recycling

Springfield

22.7 miles

Do you have sleeping in the garage an aged car or are you immersed in the search of second hand pieces for your automobile? This site advise you a visit to this junk yard, since it delivers a wide inventory.

10

10. Corvette Connection

none, Lebanon

25.7 miles

Interested users have the opportunity to reach the welcoming owners of this wrecking yard by these methods: email or phone. If you are aimed to buy high quality vehicle pieces in the municipality of Lebanon (Tennessee), they are an ineludible election. More information: They work from Monday to Friday.