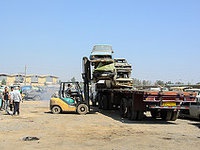 You can visit this salvage yard in the surroundings of Smithers (British Columbia). It delivers to its customers. In case you need to ask on any used parts, estimated junk car value, trade or get a junk car, you can contact the dealer by using phone. The Harris Auto Wrecking business hours information isn't offered yet.
Canada, British Columbia, Smithers
3471 Old Babine Lake Rd, Smithers V0J 2N6
Leave your opinion below!
Need used parts? Submit your parts request for a quote
This section aims to deliver you a little more, apart from the contact info of this salvage yard. We try to give you additional search options with the goal that you can find the cheaper junk spares preventing you from wasting time. This listing is organized from closest to furthest from this municipality.
Locate under these lines more junk yards near the area of Smithers (British Columbia):
1

; SP

1. Harris Auto Wrecking

3471 Old Babine Lake Rd, Smithers V0J 2N6

Are you the owner of an used auto or are you looking for used spare parts suitable for your car? This site suggest a visit to this salvage yard in Smithers, since it provides an immense supply. Additionally, you may check 1 reviews in order to know more about this business.