Last update on December 29, 2015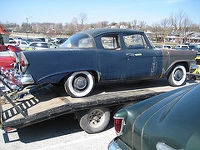 Placed close to the surroundings of Metcalfe (Ontario), this wrecking yard is providing car parts and scrap metal to its potential customers. If you are aimed to inquire on any used parts, estimated junk car value, get cash for junk cars or scrap autos for sale, you have the possibility to reach them via email or phone. The Greely Auto Parts Recycling business schedule information isn't offered yet.
What they sell:
scrap metal car parts
Canada, Ontario, Metcalfe
6441 Bank Street, Metcalfe, ON (Zipcode: K0A 2P0)
Operating Hours
Greely Auto Parts Recycling Comments
Place here your comments below!
Need used parts? Submit your parts request for a quote
Improve your sales with us!
More than 1,000,000 monthly visitors
New blog posts that may be of your interest
There is a colossal variety of makes and models on the market, so there is a probability that you will not locate the junk parts you are looking for in this salvage yard, despite its impressive inventory. Don't worry, we have already thought about that and gathered other recyclers for you very close.
This listing (which is sorted from closest to farthest) displays more junkyards near the surroundings of Metcalfe (Ontario):
1

1. G&L Auto Recycling

4537 Navan Road RR #2, Navan

12.8 miles

You can save large amounts of money on the conservation of your well-liked car by buying used spare parts without giving up the minimal warranties in this leading in Navan surroundings wrecking yard.

2

2. LKQ Sonshine Auto Parts

2104 Dunning Road, Cumberland

13.9 miles

Do you have an aged car or are you immersed in the search of second-hand spare parts suitable for your auto? This directory recommend to approach this salvage yard, since it delivers an immense inventory. The LKQ Sonshine Auto Parts timetable information cannot be found, however, you can see its web.

3

3. Autorebex Sales, Service, Towing & Shipping

930 Wellington Street West, Ottawa

17 miles

Neighbors of the Ottawa area can buy an immense catalog of second-hand parts that can fit with their vehicles in this junkyard. It is possible to reach them using: email and phone. More information: The Autorebex Sales, Service, Towing & Shipping is open Monday to Saturday.

4

4. Standard Auto Wreckers – Ottawa

5402 Old Richmond Road, Ottawa

17 miles

In case you are looking for the highest quality second hand pieces near the Ottawa neighborhood, this business can be an ideal pick to purchase them at a great price. Feel free to get in touch with them via: email or phone. This junkyard opening hours info cannot be found yet.

5

5. Kenny U-Pull Used Auto Parts Ottawa

6638 Bank St, Ottawa

17 miles

In case you are looking for the finest used parts near the Ottawa zone, this wrecking yard could be a great pick to buy them at a great price. You have the possibility to get in touch with them using: email or phone. They're open from Monday to Sunday.

6

6. Garage L. Guay ltee

380, boul. Labrosse, Gatineau

20.4 miles

The business listed here is located close to Gatineau (Quebec) and it's offering high quality vehicle pieces to its potential buyers near the area. In case you want to request a quote for your used auto or plead for a precise used piece, feel free to contact them via tollfree, phone or email.

7

7. Original Auto Parts

1351 Joinasse, Clarence Creek

22.1 miles

The junkyard we show here is situated in Clarence Creek (Ontario) and it's distributing incredible performance vehicle parts to its eventual buyers near the proximity. In case you are aimed to request an estimation for your junk auto or request for a particular junk spare-part, feel free to get in touch with them using phone, email or tollfree.

8

8. Dave's Auto Parts Ltd

112 Falldown Lane, Carp

28.7 miles

The perfect method to avoid wasting hundreds of dollars on second hand pieces for your vehicle is to contact a junkyard and this is a very good option near the Carp location. This salvage yard operational hours info is not available yet.

9

9. Mark's Parts

106 Caledonia Road Unit B, St. Isidore

29 miles

This business aims to offer a very specialized and capable service at incredible prices, with a large variety of catalog and with the warranties requested by its buyers. You can meet this junkyard in the town of St. Isidore (Ontario). This salvage yard opening schedule information is not available yet.

10

10. Kirby's Auto Parts

Ogdensburg

36.9 miles

Purchasers have the opportunity to visit this salvage yard close to the proximity of the town of Ogdensburg (New York). Its main business model is the marketing of auto parts at the most incredible prices in the vicinity but without giving up all the warranties that you could wish. In case you need to reach them, you can do it by these means: email, tollfree and phone.