Last update on August 21, 2014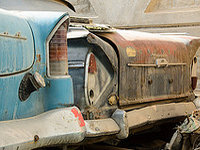 Purchasers have the opportunity to locate this salvage yard close to the area of Delbarton (West Virginia). It offers car parts to its visitors. If you are aimed to ask about any second-hand parts, estimated junk car value, trade or acquire a junk car, you can get in touch with the dealer via tollfree, phone or email. The Goodwill Motor Co operating schedule info is not available yet.
What they sell:
car parts
USA, West Virginia, Mingo, Delbarton
Business Hours
Goodwill Motor Co Comments
Need used parts? Submit your parts request for a quote
Improve your sales with us!
More than 1,000,000 monthly visitors
This section pretends to deliver you a little more, as added to the contact details of this junkyard. We work to show you more search options so that you can locate your second hand spare parts preventing you from wasting time. This listing is organized from nearest to farthest from this location.
Locate under this text more salvage yards in the area of Delbarton (West Virginia):
1

1. Muncys Auto Recycle

5216 State Highway 292 W, Belfry

7.1 miles

Do you have a junk car or are you immersed in the search of second hand parts suitable for your auto? This site advise you a visit to this business, since it offers a huge stock. More info: The Muncys Auto Recycle is open from Monday to Friday.

2

2. Meadows Salvage and Rebuilders

Lenore

8.5 miles

This salvage yard wich operates near the town of Lenore (West Virginia), distributes a very efficient service to its purchasers, offering surprising offers but without giving up the best excellency and a broad variety of supply.

3

3. Tom's Truck Parts

Raccoon

20.3 miles

This business aims to offer a very capable service at incredible prices, with an extensive depht of inventory but without giving up the warranties requested by its clients. You have the possibility to reach this junk yard near the town of Raccoon (Kentucky). In addition, you may check 2 opinions left by other users.

4

4. Evans Wrecker and Salvage

8500 Ky Route 979, Grethel

29.1 miles

In case you're in the task of looking for the highest quality junk parts near the Grethel zone, this business can be a great option to get them at a low price. You have the opportunity to contact them using: phone. The Evans Wrecker and Salvage is open from Monday to Friday.

5

5. Ronald Adams Auto Parts

Prestonsburg

31.8 miles

Residents of the Prestonsburg neighborhood have the possibility to obtain an enormous catalog of second hand parts that will fit with their cars in this wrecking yard. You can contact them using: tollfree, phone or email.

6

6. Anderson Fork Salvage

Virgie

33.3 miles

The business we display here is situated close to Virgie (Kentucky) and it's delivering top condition vehicle pieces to its possible purchasers in the neighborhood. In case you want to request a quote for your used vehicle or ask for a specific junk spare-part, feel free to get in touch with them via tollfree, email and phone.

7

7. Cedar Bluff Auto Recycles

3145 Cedar Valley Dr, Richlands

47 miles

The salvage yard we show here is settled near Richlands (Virginia) and it's offering the greatest condition auto pieces to its possible clients near the neighborhood. If you need to inquire an estimation for your used automobile or ask for a precise junk spare, please get in touch with them via phone.

8

8. Bailey Auto Parts

Salyersville

48.2 miles

You can avoid wasting hundreds of dollars on the maintenance of your well-liked car by buying second-hand spares without giving up the expected warranties in this prominent in Salyersville surroundings salvage yard.

9

9. DANDEES T/A VALLEY AUTO SALVAGE

1521 Indian Creek Rd., Cedar Bluff

48.7 miles

Purchasers have the opportunity to visit the welcoming owners of this junk yard by this way: phone and email. If you are aimed to obtain the best quality auto pieces in the town of Cedar Bluff (Virginia), they are an inescapable choice. They work from Monday to Friday.This junk yard has been voted 1 times by previous users.

10

10. Godsey Auto Salvage

4883 Highway 80 E, Leburn

49 miles

Are you the owner of an aged car or are you looking for cheap spare parts suitable for your auto? This directory advise you to approach this wrecking yard, since it gathers a vast supply. Additional information: The Godsey Auto Salvage is open Monday to Friday.