Last update on October 31, 2020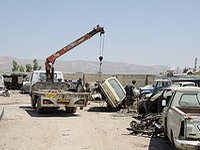 Garage Alain St-Pierre is the largest heavy equipment salvage yard in Canada with 1,400 of the latest equipment dismantled. The yard, which is 1km long, contains over 75,000 components. Specialized in very large excavators (up to 120 tons). Every parts is reconditioned or rebuilt and comes with a warranty. Website with online shop updated daily. Quick shipping and great service.
What they sell:
tractor parts
Canada, Quebec, Saint-Prime
1127 Principale, Saint-Prime, QC (Zipcode: G8J 1V2)
Business Hours
Garage Alain St-Pierre inc. Reviews
Share your opinion below!
Need used parts? Submit your parts request for a quote
Improve your sales with us!
More than 1,000,000 monthly visitors
We could not call ourselves the leading junk yard database online for the United States if we didn't provide you some additional features in order to assist you in your search for junk parts.
Check this listing (which is sorted from nearest to farthest) for additional wrecking yards close to the vicinity of Saint-Prime (Quebec).
1

1. Rondeau pièces d'autos inc

250, Principale, Saint-Eugène d'Argentenay

27.8 miles

The ideal technique to economize hundreds of dollars on used parts suitable for your automobile is by approaching a salvage yard and this is a great pick close to the Saint-Eugène d'Argentenay neighborhood.

2

2. Centre de recyclage St-Bruno Inc.

1500, boul. Marie-Victorin, Saint-Bruno

35 miles

It's easy to economize large amounts of money on the repairs of your dear automobile by obtaining second-hand spare parts with warranty in this prominent in Saint-Bruno vicinity junkyard.

3

3. Châteauguay pièces d'autos inc.

4383, rue Châteauguay, Jonquière

53.7 miles

If you're looking for the cheapest used parts in the Jonquière surroundings, this wrecking yard can be an excellent choice to purchase them at a great price. You have the opportunity to contact them via: email or phone.

4

4. Complexe automobile St-Paul

1129, boulevard St-Paul, Chicoutimi

61.9 miles

This junkyard placed close to the town of Chicoutimi (Quebec), delivers a very specialized and efficient service to its clients, with attractive bargains but without giving up the highest excellency and an immense variety of supply. The Complexe automobile St-Paul timetable info cannot be found, however, you can check their website.

5

5. Paysan pièces d'autos usagées inc.

228, boul. du Royaume Est, Chicoutimi

61.9 miles

This junkyard wants to provide a very specialized and qualified assistance at the best prices, gathering an immense variety of catalog and with the guarantees requested by its buyers. You have the possibility to locate this salvage yard in the municipality of Chicoutimi (Quebec).