Garage Alain St-Pierre inc.
Garage Alain St-Pierre inc.


Saint-Prime, Quebec
Want to ADVERTISE this business?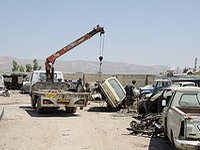 Garage Alain St-Pierre is the largest heavy equipment salvage yard in Canada with 1,400 of the latest equipment dismantled. The yard, which is 1km long, contains over 75,000 components. Specialized in very large excavators (up to 120 tons). Every parts is reconditioned or rebuilt and comes with a warranty. Website with online shop updated daily. Quick shipping and great service.
What you can find: tractor parts
Canada, Quebec, Saint-Prime
1127 Principale, Saint-Prime, QC (Zipcode: G8J 1V2)
Garage Alain St-Pierre inc. Schedule
Garage Alain St-Pierre inc. Reviews
Leave your opinion! Review Garage Alain St-Pierre inc. now
Latest blog posts that may be of your interest
Junkyards near Saint-Prime
Review this list for more junk yards in the surroundings of Saint-Prime (Quebec):
Closest Junk Yards to Saint-Prime
Address
Distance
250, Principale, Saint-Eugène d'Argentenay
44.8 miles
They provide an highly qualified service at great prices, with an excellent variety of catalog and with the warranties demanded by its clients. Users can meet this junk yard in the town of Saint-Eugène d'Argentenay (Quebec). More info: The Rondeau pièces d'autos inc business schedule info is not present so far.
1500, boul. Marie-Victorin, Saint-Bruno
56.4 miles
Habitants of the Saint-Bruno surroundings can access an extensive catalog of second-hand parts for their cars in this junk yard. You can get in touch with them via: phone, tollfree or email. More information: The Centre de recyclage St-Bruno Inc. opening hours information is not included so far.
4383, rue Châteauguay, Jonquière
86.4 miles
Visitors can visit this business in the proximity of the city of Jonquière (Quebec). Its central business model is the sale of auto parts at the lowest prices in the area and providing all the guarantees that you may require. If you need to contact them, you can do it by these methods: email or phone.
1129, boulevard St-Paul, Chicoutimi
99.8 miles
Do you own an used car or are you looking for used spares for your automobile? We advise you to approach this business, since it provides an extensive inventory. Additional information: The Complexe automobile St-Paul business hours information is not included yet but you can review its web.
228, boul. du Royaume Est, Chicoutimi
99.8 miles
This salvage yard is placed in Chicoutimi (Quebec) and it's providing the best quality auto spares to its eventual clients in the proximity. In case you want to request a valuation for your used vehicle or ask for a particular second-hand piece, you can contact them via tollfree, phone or email.