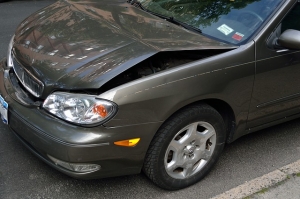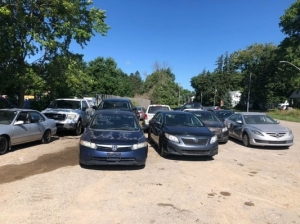 Fast Cash for Cars is ready to pick up your junk vehicle if you want to remove it from your garage. The team will inspect the vehicle, make an offer for your vehicle, and then tow your vehicle. As you don't need to hassle to bringing your vehicle to the junkyard, our tow truck drivers will remove it.
Canada, Ontario, North York
164 Limestone Crescent, North York M3J 2S4
Operating Hours
Share your comments here!
Need used parts? Submit your parts request for a quote
We could not call ourselves the finest junkyard directory on internet for the U.S. if we didn't deliver you some additional components to assist you in your search for junk parts.
Check this list (which is organized from nearest to furthest) for additional wrecking yards close to the surroundings of North York (Ontario).
1

1. Scrap Car Removal Ontario

57 Milvan Dr Unit B, North York, ON M9L 1Y8

Get maximum value for your old, unused vehicles with this auto wrecker. They offer quick and efficient removal services, ensuring a smoothly experience for the customers. Whether you have a car, truck, or van, they will take it off your hands and pay you a fair price in return. Say goodbye to that old vehicle today!

2

2. Scrap My Cars

83 Parkwoods Village Dr #508, North York, ON M3A 3R8

auto wrecker

junk car removal

towing service

Need to get rid of that old junk car in the driveway? Consider this auto wrecker for a smoothly experience. With prompt and professional service, they offer fair prices and excellent communication. Get your car towed away without the headaches of haggling or dishonesty. Highly recommended for reliable, honest service.

3

3. Scrap Cars Canada

155 Norfinch Dr, North York, ON M3N 1X6

With a large inventory of salvaged auto parts and vehicles, this junkyard is the perfect place to find what you need for your car repairs or restoration projects. They offer a variety of makes and models, and their knowledgeable staff is always ready to help you locate the parts you require. Whether you're a car enthusiast or just looking for affordable replacement parts, this place has got you covered.

4

4. Towing and Scrap Car Removal Vaughan

19 Asner Ave, Maple, ON L5A 0W6

junkyard

junk car removal

towing service

The proper way to economize large amounts of money on second-hand pieces for your car is to contact this junkyard in the Maple neighborhood, this is a superb option. This company operational hours information cannot be found, however, you have the possibility to visit its web.Additionally, you may read 2 thoughts in order to know more about this business.

5

5. Jones Auto Wreckers

1 Thora Avenue, Scarborough M1L 2P7

Welcome to the local junkyard, where you can find a wide range of used auto parts for your vehicle at affordable prices. This business offers a convenient and reliable source for all your car part needs, with a helpful staff ready to assist you in finding the right components for your vehicle. Whether you're looking for engines, transmissions, wheels, or any other car part, this place is the place to go.

6

6. Standard Auto Wreckers – Toronto

1216 Sewells Rd, Scarborough, ON M1X 1S1

salvage yard

used auto parts

self service

junk car removal

towing service

If you're looking for a self-serve salvage yard, you're in the right place. With a extensive variety of used parts and a huge selection of vehicles to choose from, this junkyard is the perfect place to find what you need. Since the renovation, it's also clean and easy to navigate.

7

7. Boston Auto Wreckers

113 McCormack St, York, ON M6N 1X8

salvage yard

used auto parts

Looking to repair or upgrade your vehicle without breaking the bank? Look no further than this salvage yard. Offering a wide selection of used parts, including suspension components, driveshafts, and much more, they are known for their knowledgeable staff and cost-effective offerings. Trust them for all your automotive part needs!

8

8. Scrap Car Removal

20 Shore Breeze Dr, Etobicoke, ON M8V 1A1

junkyard

used auto parts

self service

auto buyer

Offering a convenient self-serve option for selling old cars and salvaging parts, this junkyard provides swift and professional service. Customers appreciate the knowledgeable staff and prompt payment for vehicles. With quick pick-up times and fair pricing, this business is highly recommended for those looking to dispose of their old cars.

9

9. Boston Auto Wreckers

113 McCormack Street, Toronto M6N 1X8

In search of a reliable junkyard to get rid of your old car? You're in the right place. This place has been serving the community for years, offering efficient and environmentally friendly disposal of all types of vehicles. Their team is committed to providing smoothly service and fair prices for your scrap metal and auto parts needs.

10

10. Auto Heaven

7 Vanley Crescent, Toronto, ON M3J 2B7

junkyard

junk car removal

towing service

With Auto Heaven, selling your old vehicle is fast and easy. Simply text them photos and a description, and they'll provide a fair quote within 24 hours. Then, they'll schedule a professional pick-up at your convenience, handing over the agreed-upon cash on the spot. Reliable service for getting rid of that old car taking up space.