Last update on June 9, 2019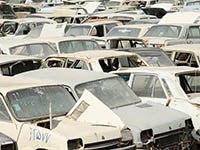 Visitors have the opportunity to visit this wrecking yard close to the surroundings of Franklin (Louisiana). This business offers truck parts to its visitors. If you want to ask about any used parts, junk car value estimation, get cash for junk autos or junk cars for sale, you can get in touch with the business by using phone and email. The Everything Goes is open Monday to Saturday.
What they sell:
truck parts
USA, Louisiana, St Mary, Franklin
1205 Theresa St., Franklin, LA (Zipcode: 70538)
Business Hours
Leave your opinion below!
Need used parts? Submit your parts request for a quote
Improve your sales with us!
More than 1,000,000 monthly visitors
This page pretends to provide you a little more, apart from the contact details of this junk yard. We try to give you more search possibilities with the goal that you can locate the best used spare parts preventing you from wasting time. This listing is organized from closest to farthest from this city.
Check under this text other junkyards close to the surroundings of Franklin (Louisiana):