Last update on December 29, 2015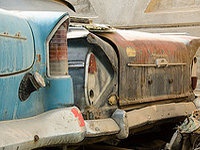 In case you are immersed in the search of junk spares compatible with your car at the lowest prices but without giving up good guarantees near the area of Abbotsford (British Columbia), this junk yard certainly provides what you want. Its business area focuses on the delivery of scrap metal, truck parts or car parts, always with the most strict quality control. You can additionally ask them if you want a quote for your second hand auto or if you´re aimed to buy a second hand vehicle at a low price. It´s possible to contact them by these means: phone and email. Detailed info: The Empire Abbotsford Recycled Auto & Truck Parts opening schedule info is not included yet, despite this you can access its web.
Their business model:
scrap metal truck parts car parts
Canada, British Columbia, Abbotsford
1210 Sumas Way, Abbotsford, BC (Zipcode: V2S 8H2)
Business Hours
Empire Abbotsford Recycled Auto & Truck Parts Reviews
Need used parts? Submit your parts request for a quote
Improve your sales with us!
More than 1,000,000 monthly visitors
This page wants to offer you something else, as added to the contact info of this salvage yard. We try to give our visitors more search possibilities so that you can locate your used spare parts as soon as possible. This listing is sorted from nearest to furthest from this municipality.
Find below other salvage yards in the surroundings of Abbotsford (British Columbia):