Last update on March 22, 2023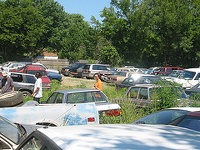 We specialize in towing vehicles, light, medium, and heavy duty towing. We also buy junk cars, and do some mechanic work. We are family owned and operated and focus mostly on making our customers happy. We sell salvaged parts for any and every kind of vehicle. Come out and see us, or give us a call (662)450-8009
What they do:
car parts classic parts scrap metal truck parts cash for junk car
USA, Mississippi, Holmes, Lexington
2918 Rathell Rd, Lexington, MS (Zipcode: 39095)
Operating Hours
Dixon's Towing and Auto Repair Comments
Place here your opinion now!
Need used parts? Submit your parts request for a quote
Improve your sales with us!
More than 1,000,000 monthly visitors
There's a vast assortment of makes and models on the market, so there's a possibility that you will not find the junk spare parts you're looking for in this salvage yard, regardless of its impressive catalogue. Don't worry, we have already thought about that and retrieved other businesses for you very close.
This listing (which is arranged from closest to farthest) contains additional junkyards close to the surroundings of Lexington (Mississippi):