Last update on August 21, 2014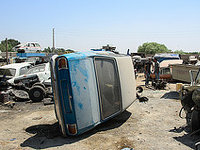 This wrecking yard placed close to the city of Cullman (Alabama), delivers car parts to its clients. In order to inquire about any used vehicle pieces, junk auto quotes, get cash for junk vehicles or second-hand vehicles for sale, please get in touch with them by email, phone or tollfree. The Dixie Motor Sales & Salvage timetable info isn't offered so far.
What they sell:
car parts
USA, Alabama, Cullman, Cullman
Business Hours
Dixie Motor Sales & Salvage Comments
Need used parts? Submit your parts request for a quote
Improve your sales with us!
More than 1,000,000 monthly visitors
We could not call ourselves the leading salvage yard directory on internet for the U.S. if we didn't provide you some additional components to assist you in your search for junk parts.
Browse this listing (which is organized from closest to furthest) for additional junk yards close to the vicinity of Cullman (Alabama).