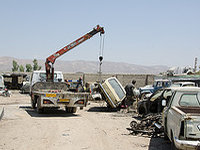 Visitors who are interested in businesses dedicated to the distribution of car parts close to the area of Holland (Michigan), here they have a choice that will not deceive. They are skilled professionals who deeply review the second hand vehicle spare parts they distribute and deliver the most complete warranties, so you can acquire them with absolute tranquility. In case you need to contact them, you can do so: phone, tollfree and email. Additional information: The Discovery Auto Parts business schedule information is not offered yet.
USA, Michigan, Ottawa, Holland
Leave your comments below!
Need used parts? Submit your parts request for a quote
We couldn't be the best junkyard directory on internet for the U.S. if we didn't provide you some extra elements to help you in your search for used parts.
Browse this list (which is sorted from nearest to furthest) for more junkyards near the area of Holland (Michigan).