Last update on August 21, 2014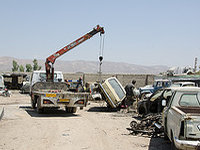 In case you're aimed to look for used spare parts compatible with your vehicle at the most competitive prices but without giving up good guarantees close to the vicinity of Clinton (New Jersey), this junk yard surely offers what you need. Its business model is focused on the distribution of scrap metal, always with the most rigorous quality supervision. You can also ask them if you need a valuation of your second-hand vehicle or if you´re aimed to buy an used auto at a good price. It is possible to get in touch with them by these methods: phone. Detailed information: The Cozze Bros is open Monday to Friday.
What they sell:
scrap metal
USA, New Jersey, Hunterdon, Clinton
Hwy 78, Clinton, NJ (Zipcode: 8809)
Business Hours
Need used parts? Submit your parts request for a quote
Improve your sales with us!
More than 1,000,000 monthly visitors
This page pretends to provide you a little more, as added to the contact details related to this junk yard. We try to give our users additional search possibilities so that you can find the best second hand spare parts in the shortest possible time. This list is sorted from nearest to furthest from this municipality.
Locate under these lines additional junkyards in the area of Clinton (New Jersey):
1

1. Motorcycle Junk Shop

Clinton

If you're in the task of looking for the cheapest junk spare parts near the Clinton zone, this junk yard could be an incredible option to buy them at a low price. You can get in touch with them using: email, tollfree or phone.

2

2. Cozze Bros Used Auto Parts

49 Race St, Pittstown

4.9 miles

This business aims to distribute a very specialized and professional service at great prices, gathering an extensive breadth of inventory but without giving up the guarantees expected by its purchasers. Visitors have the opportunity to meet this junkyard in the municipality of Pittstown (New Jersey). The Cozze Bros Used Auto Parts is open from Monday to Friday.

3

3. Cozze Brothers

Hwy 78 To Clinton, Pittstown

4.9 miles

Do you have sleeping in the garage an used car or are you immersed in the search of used parts for your auto? We advise you to approach this junkyard, since it has an extensive catalog. They're open Monday to Friday.

4

4. Washington Auto Salvage

57 State St, Washington

9.1 miles

You can save large amounts of money on the maintenance of your dear auto by obtaining second-hand spares without giving up the necessary warranties in this popular in Washington area business. They work from Monday to Friday.Other visitors have shared 1 thoughts about this salvage yard.

5

5. Pro Auto Recyclers

130 Us Highway 202/31, Flemington

9.4 miles

The proper method to save a lot of money on second-hand pieces for your car is by visiting a wrecking yard and this is an attractive option close to the Flemington surroundings. They work from Monday to Friday.

6

6. Columbia Too Auto Wreckers

985 State Hwy 57, Port Murray

11.1 miles

Neighbors of the Port Murray vicinity can check a wide inventory of second hand spares compatible with their cars in this junkyard. You can contact them via: phone. They are open Monday to Friday.

7

7. Brass Castle Imports

Oxford

13.1 miles

Buyers have the possibility to talk with the attentive managers of this salvage yard by this way: tollfree, email or phone. In case you want to acquire high quality auto parts in the town of Oxford (New Jersey), they are an incredible pick.

8

8. Lentini Auto Salvage

130 US Highway 202, Ringoes

14 miles

This business wich operates in the town of Ringoes (New Jersey), delivers an highly qualified service to its buyers, with great bargains but without giving up the expected quality and an extensive depht of catalog. More information: They're open from Monday to Friday.This salvage yard has been rated 3 times by previous users.

9

9. Aalways Auto Recycling Wrecker Service

Raritan

14.8 miles

Customers have the opportunity to find this junkyard close to the proximity of the city of Raritan (New Jersey). Its fundamental business model is the sale of auto parts with the most reasonable prices in the area and with all the warranties that you may require. In case you need to get in touch with them, you can do it by these methods: phone.

10

10. Price Auto Wreckers

4 Edgewater Ave, Bridgewater

15.5 miles

Buyers can reach this salvage yard near the surroundings of the town of Bridgewater (New Jersey). Its preeminent business model is the marketing of auto spare parts with the lowest prices in the state and providing all the warranties that you could request. In case you want to contact them, you can achieve this this way: tollfree, phone and email.