City Limits Auto Parts


Sault Sainte Marie, Michigan
Want to ADVERTISE this business?
Last update on May 2, 2016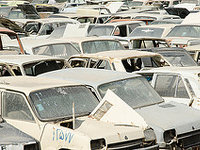 This scrap yard situated in the city of Sault Sainte Marie (Michigan), offers car parts to its clients. To inquire on any used parts, estimated junk car value, get cash for junk cars or junk cars for sale, please contact via phone and email. The City Limits Auto Parts is open Monday to Friday.
What you can find: car parts
USA, Michigan, Chippewa, Sault Sainte Marie
1705 Marquette Ave, Sault Sainte Marie, MI (Zipcode: 49783)
906-632-6173 or 906-203-9447
City Limits Auto Parts Schedule
City Limits Auto Parts Reviews
Share your opinion! Review City Limits Auto Parts now
Latest blog posts that may be of your interest
Junkyards near Sault Sainte Marie
Check this list for additional salvage yards in the area of Sault Sainte Marie (Michigan):
Closest Junk Yards to Sault Sainte Marie
Address
Distance
997 Carpin Beach Road, Sault Ste. Marie
4.6 miles
You can contact the helpful owners of this salvage yard by these methods: tollfree, phone or email. In order to purchase high quality vehicle parts in the municipality of Sault Ste. Marie (Ontario), they are an inescapable choice. More info: The Bickell Auto Parts business hours info is not present so far.
Naubinway
93.4 miles
Purchasers can locate this business in the proximity of the town of Naubinway (Michigan). Its essential business area is the sale of auto spares at the best prices in the area and with all the guarantees that you may wish. In case you want to contact them, you can do it by these methods: email, tollfree or phone.